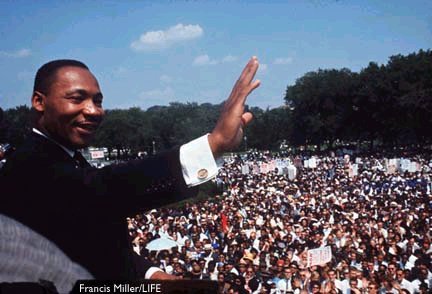 When I was sixteen years old in 1983, I took a trip to Atlanta with my high school chorus group for a performance. Two days before the show, we had a chance to tour the city, which was just beginning in it's growth. Still, one of the memories of old Atlanta still stood. The birth home of Dr. Martin Luther King. Jr. My group got a chance to tour the home and it was quite amazing to think that such a man came from such humble surroundings. Plesant and quaint, it still held some of the items that Martin and his family used. We also saw family photos of the Kings in much happier days, and and in sad days, around April of 1968. How would they know that this home, this place of solitude would become a shrine to such a loved man?
The group was then lead to a room that was fitted with chairs a movie screen to show a short documentary about Dr. King's life, including thoughts from Former President Carter, Walter Cronkite and Coretta Scott King, along with archival footage. By the time it was done, we were all left in tears. Here was a man who fought not only for the rights of Blacks, but for the rights of EVERYONE. Though he may not be with us here now, let's hope that the ideas that he believed in is still carried on by those who understood his stuggle and thru peace we can still continue his legacy.
Happy birthday, Dr. King. Thank you for letting me tour your life.